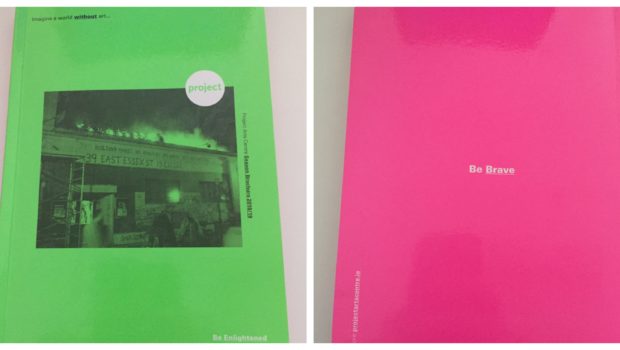 The recently launched Project Arts Centre 2018/2019 Season features a number of Irish Theatre Institute (ITI) associated artists involved in ITI's Six in the Attic (SITA), SITA Alumni, ELEVATORprogrammes and in Show in a Bag. We are proud to see this work remounted at such a renowned theatre right in heart of Dublin's Cultural Quarter.
——————————–
PRODUCTIONS INCLUDE:
Recovery
Presented by Hugh Farrell (ELEVATOR 2017) and One Two One Two
Directed by Zoe Ní Riordáin (SITA Alumnus)
Project Cube, 8th – 10th November
PANNED
Presented by Hooked in association with We Get High Collective and Theatre Upstairs
Written by Caitríona Daly (SITA)
Project Cube, 13th – 17th November
I Am Tonie Walsh
Presented by THISISPOPBABY
Written by Phillip McMahon (SITA Alumnus) and Tonie Walsh
Space Upstairs, 28th November – 1st December
Dublin Oldschool
Presented by Project Arts Centre
Written by Emmet Kirwan (Show in a Bag 2014 and SITA Alumnus)
Directed by Phillip McMahon (SITA Alumnus)
Performed by Emmet Kirwan and Ian Lloyd Anderson
Space Upstairs, 11th – 22nd December
Walk For Me
Presented by Kate Stanley Brennan (Show in a Bag 2017)
Written and performed by Kate Stanley Brennan with DJ Handsome Paddy on decks
Space Upstairs, 16th – 26th January
Rapids
Presented by Talking Shop Ensemble and Shaun Dunne
Produced by Lara Hickey (SITA Alumnus)
Project Cube, 7th – 9th February
This Is The Funeral Of Your Life
Presented by Louise White
Produced by Joanna Crawley (ELEVATOR 2017)
Project Cube, 13th – 16th February
The Wickedness of Oz
Presented by Breda Cashe Productions
Written and performed by Kate Gilmore (Show in a Bag 2016)
Project Cube, 26th February – 2nd March
——————————
About Irish Theatre Institute's Artist Supports Programmes
Throughout the year ITI mentors, supports and resources artists and theatre makers to develop, create and present world class work to audiences.
ITI's Six in the Attic provides theatre artists with space, time and practical resources coupled with the mentoring and advice services needed to explore, develop and make work. On completing the SITA cycle artists are welcomed into the SITA Alumni group, with access to ongoing mentoring and career supports, as well as project management expertise.
ITI's ELEVATOR acts as a catalyst for producers to develop their expertise, skills and networks at a crucial point in their careers. The emphasis is on collaboration, mentorship, networking, up-skilling and touring.
Show in a Bag is an artist development initiative of Dublin Fringe Festival, Fishamble: The New Play Company and Irish Theatre Institute to resource theatre makers and actors. The first Show in a Bag initiative was established in 2010 to facilitate the creation of five new small scale, tourable shows which would highlight the talents and skills of performers making work for the Dublin Fringe Festival.